Video counseling sessions
We are proud to offer several of our services through HIPPA compliant video software. This convenient service is easy to use and makes counseling with us accessible to any SC resident.
Reproductive Journey Counseling & Support was founded by Susannah Baldwin, a Licensed Professional Counselor and one of the first to hold a PSI certification in the state of South Carolina. Susannah works with and advocates for adults and couples navigating their reproductive journey, and is a recognized local expert in postpartum counseling with advanced training in maternal mental health.
Under her guidance and with PSI training, counselors Stefani Huey, Natasha Moses, Katherine Tarleton, and Allison Sullivan conduct screenings, assessments, counseling, facilitate groups, yoga classes, and more.
This agency's vision is to serve as a resource for anyone experiencing fertility challenges, pregnancy or postpartum depression, pregnancy or infant loss, traumatic childbirth or simply struggling to adjust to parenthood.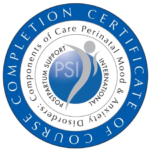 You are not alone.
Susannah Baldwin, MEd, LPC, PMH-C
Founder & Director
Adults & Couples Counselor
Susannah specializes in all issues relating to one's reproductive journey – sexuality, fertility challenges, pregnancy, loss, postpartum mood and anxiety disorders. She also leads the Bringing Baby Home Workshops and enjoys helping couples navigate their adjustment to parenthood.
Stefani Huey, LISW-CP
Director of Operations & Programs
Adults & Couples Therapist
Stefani specializes in working with issues of fertility challenges, medically complex pregnancies, loss, postpartum mood and anxiety disorders, and with supporting NICU families. She provides individual and couples therapy to help overcome obstacles and barriers related to reproductive and perinatal issues. Stefani seeks to empower and support individuals and couples through a strengths based, client centered approach.
Noelle Leopard, MS
Client Services Coordinator
Noelle provides information about our services & events, helps with scheduling or re/scheduling, assists with billing questions and more. Basically, if you have any thing you're curious about and not sure who to ask, start with Noelle. She holds a Masters in Counseling and has received advanced training in perinatal mental health. She provides a safe space for the intake process as well as any additional resources that may be helpful.
Allison Sullivan, LMSW
Adult and Parenting Therapist
Allison specializes in issues relating to medically complex pregnancies, NICU families, child development, pregnancy and postpartum anxiety / depression and parenting. She utilizes a variety of modalities, including evidence based cognitive behavioral therapy (CBT). Allison supports women in overcoming obstacles, reaching individual goals, and identifying their strengths.
Katherine Tarleton, LMFT-A, PMH-C
Adult & Couples Therapist
Katherine ("Kat") specializes in fertility challenges, perinatal anxiety and depression, life transitions, and relationship issues during the pregnancy and postpartum periods. She utilizes a relational approach to help both individuals and couples build strong foundations and improve their relationship while caring for their children. Katherine provides warmth, compassion, and encouragement to help clients utilize their own strengths to find peace and experience genuine healing. Kat is an LGBTQ+ affirming therapist.
Healing and Hardcovers Therapeutic Book Club
A recurring event focusing on a new book each month! Reading on your own is great, but evidence suggests reading and discussing deeper concepts with a group is even better! Change your life one book at a time.
Navigating Motherhood
This is a FREE gathering open to any mom with young children (infancy through preschool age) wanting to feel better, share experiences & connect with other moms. Each week an expert facilitator will share tools for coping and enhancing well-being while including time for socializing & supportive sharing.
Relationship Workshop for New & Expecting Parents: A Bringing Baby Home Program
For both pregnant and parents with kids under age 3, this weekend workshop will give you skills and information to recognize and cope successfully with the normal stressors of becoming parents.
"Susannah has a real gift of getting couples to open up and learn how to turn toward each other. She also creates a safe, comfortable and professional environment for people to open up and learn from each other."
"My journey as a mother will forever be marked by your counseling, guidance, empathy, understanding and encouragement in those early, critical years. And I am where I am today because of your help and your hard work at helping women in my situation."
"Bringing Baby Home has given us the knowledge and skills to cope constructively with the many changes brought about by the birth of our child. We now have tools and information to help us make this transition easier on everyone (our baby, our relationship,…ourselves). Thank you!"
Join our email list for updates on upcoming workshops, free support groups, new services, and more. 
Let's Talk: Maternal metal Health
Gain valuable knowledge to prevent, heal and advocate for your mental wellbeing in this live, virtual chat with Q&A.
We offer casual intro sessions at a reduced rate for new clients.