Video counseling sessions
We are proud to offer several of our services through HIPPA compliant video software. This convenient service is easy to use and makes counseling with us accessible to any SC resident.
Reproductive Journey Counseling & Support was founded by Susannah Baldwin, a Licensed Professional Counselor and one of the first to hold a PSI certification in the state of South Carolina. Susannah works with and advocates for adults and couples navigating their reproductive journey, and is a recognized local expert in postpartum counseling with advanced training in maternal mental health.
Under her guidance and with PSI training, counselors Natasha Moses, Jodi Glasser, Katherine Tarleton, and Stefani Huey conduct screenings, assessments, counseling, facilitate groups, yoga classes, and more.
This agency's vision is to serve as a resource for anyone experiencing infertility, pregnancy or postpartum depression, pregnancy or infant loss, traumatic childbirth or simply struggling to adjust to parenthood.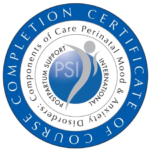 You are not alone.
Susannah Baldwin, MEd, LPC, PMH-C
Founder & Director
Adult and Couples Counselor
Susannah specializes in all issues relating to one's reproductive journey – sexuality, infertility, pregnancy, loss, postpartum mood and anxiety disorders. She also leads the Bringing Baby Home Workshops and enjoys helping couples navigate their adjustment to parenthood.
Jodi Glasser, MSW, LISW-CP
Adult, Couples, and Parenting Counselor
Jodi has been a mental health specialist for over 20 years working with issues of postpartum, birth trauma, pregnancy, family, couples, and parenting. Jodi's experience has resulted in an understanding that women and families heal with support, knowledge, and learning different ways of coping with their emotions. She also facilitates groups helping mothers to successfully navigate their way through parenthood.
Natasha Moses, MA, LPCA
Adult and Couples Counselor
Natasha specializes in trauma and is an EMDR trained clinician with advanced training in perinatal mood and anxiety disorders. She is also an internationally certified drug and alcohol counselor.  Natasha uses a combination of personal experience, knowledge and research to connect with people and draws on a strength based, solution focused and person-centered approach. 
Katherine "Kat" Tarleton, LMFT-A
Adult & Couples Therapist
Katherine specializes in anxiety, mood disorders and times of transition, with a focus on pregnancy and postpartum. She uses her background of working with couples and individuals to aid clients with examining the foundations of relationships and how those may affect current issues. Katherine utilizes warmth and compassion to help both couples and individuals navigate through their therapeutic journey.
Stefani Huey, LMSW
Perinatal Life and Wellness Coach
Stefani specializes in working with issues of infertility, medically complex pregnancies, loss, postpartum and with supporting NICU families. In addition, she provides life and/or wellness coaching to educate clients on the skills necessary to help overcome obstacles and barriers related to pregnancy, postpartum, coping with life stressors and transitioning into parenthood.
Individual & Couples Counseling
Includes assessments, screenings and counseling from a variety of approaches, custom tailored to fit our clients' needs. We offer sliding scale fees, evening and Saturday appointments.
Navigating Motherhood
This FREE gathering is open to any new or expecting mom wanting to feel better, connect, and enjoy the journey of motherhood. Each month we'll highlight a specific topic and guest speakers will occasionally be present while still allowing time for socializing and supportive sharing.
Relationship Workshop for New & Expecting Parents: A Bringing Baby Home Program
For both pregnant and parents with kids under age 3, this weekend workshop will give you skills and information to recognize and cope successfully with the normal stressors of becoming parents.
"Susannah has a real gift of getting couples to open up and learn how to turn toward each other. She also creates a safe, comfortable and professional environment for people to open up and learn from each other."
"Bringing Baby Home has given us the knowledge and skills to cope constructively with the many changes brought about by the birth of our child. We now have tools and information to help us make this transition easier on everyone (our baby, our relationship,…ourselves). Thank you!"
Join our email list for updates on upcoming workshops, free support groups, new services, and more. 
You're not alone. Visit one of our free postpartum support groups.
We offer casual intro sessions at a reduced rate for new clients.
Contact Us
We offer casual introduction sessions via video or phone for new clients. Click the button above or call to schedule an appointment.
25 Woods Lake Rd. Suite 712, Greenville, SC
Monday - Friday: By Appointment Only
Early morning and evening appointments also available upon request!