Healing and Hardcovers
A therapeutic book club
The Details
When: Thursdays from 7:00-8:00 PM
Where: Varies
Hosted by: Allison Sullivan, LMSW
Reading, in general, is a well known and time-tested method to support mental health and well-being. Reading on your own is great, but evidence suggests reading and discussing deeper concepts with a group is even better! And with such an abundance of amazing and insightful selections these days, its an ideal time to dig in deeper!
We have an extensive library at our office in Greenville and have long valued the benefit of the abundance of great content for ourselves and our clients. This therapeutic book club feels like a natural extension of our support services already in place. We'll hope you'll join us for one or all of the gatherings.
When and how do we meet?
Meetings will be on Thursdays, 7:00- 8:00 PM EST. If a virtual meeting, the Zoom link will be emailed 48-hours prior to the first session. If in-person, the address will be listed with the specific event.
What is the cost?
$65 for all 4 meetings.
Are books provided?
No. It is up to the participant to acquire their copy of the book- from the library, bookstore or download etc.
How many individuals will make up the book club?
The group will consist of a minimum of 4 members with a maximum of 10.
Who all will be in the group?
The group is open to anyone looking for unique ways to explore self awareness and self improvement.
Who is facilitating the group?
The group facilitator will typically be Allison Sullivan, one of the therapists at RJ. In the event she's absent or won't be leading a group, the other leaders names will be announced. (Luckily there's lots of us book worm types to fill in for each other as needed)
What happens if I have to miss a meeting?
Attendance is a key to a therapeutic book club- with the goal to be able to foster the sense of community with others, to learn skills, and discuss application of them from a therapeutic lens all in a safe non-judgemental space. However, we understand life also happens no matter how much we try to prepare and plan- so if you do miss, you can certainly join the next session!
*Though hosted by a licensed mental health clinician, this is not a substitute for psychotherapy or group counseling.
You will be asked to participate in a brief phone conversation after registration to ensure that this group is appropriate for you. Registration will close 3 days prior to the start date.
Change your life one book at a time.
The Book List
Upcoming Groups
Fierce Self Compassion
by Kristin Neff
New ideas that expand our notion of self kindness and its capacity to transform our lives, showing women how to balance of tender self acceptance with fierce action to claim their power and change the world.

Feb 2nd | Feb 9th | Feb 16th | Feb 23rd
Set Boundaries, Find Peace
by Nedra Glover Tawwab
In order to achieve work/life balance, cope with toxic people, and enjoy rewarding relationships with partners, friends, and family you must learn what "healthy boundaries" really mean. This book will show you how it truly is possible to successfully express your needs, say no, and be assertive without offending others-no apology needed!
Location: 7-8pm via Zoom
Facilitator: Allison Sullivan, LMSW

Mar 9th | Mar 16th | Mar 23rd | Mar 30th
Mirrors in the Earth
by Asia Suler
In a series of 12 lyrical nature essays, herbalist, writer, and Earth intuitive Asia Suler illuminates the healing power of the living Earth–and gives us permission to nurture self-compassion and empathy as forces for personal healing. In these times, it's easy to feel hopeless and disconnected. It's easier still to mask our inherent goodness–to imagine that our unique and precious gifts simply aren't enough, or forget the power of our inborn empathy. For those of us who are highly sensitive, innately attuned to the workings and whispers of the natural world, it can be hard to embody the belief that we're enough as we are-but we are! Join us in reading this book, and partake in true nature therapy sessions for the soul.
Location: : Conestee Nature Preserve (840 Mauldin Rd. Greenville, SC 29607)
Facilitator: Susannah Baldwin, LPC, PMH-C and Allison Sullivan, LMSW

April 6th | April 13th | April 20th | April 27th
The Power of Fun
by Catherine Price

When was the last time you were engaged, focused, connected, and completely present? When was the last time you felt exhilarated and lighthearted? Together, we will explore the surprising mental, physical, and cognitive benefits of fun, and offer practical ideas and activities so that we can achieve better screen/life balance. Let's start the summer off right by planning how to add TRUE fun into our daily lives—without feeling overwhelmed. That's something we don't need a vacation from!
Location:: Nectar (219 W Antrim Dr suite #G, Greenville, SC 29607)
Facilitator: Allison Sullivan, LMSW

May 4th | May 11th | May 18th | May 25th
Maybe You Should Talk to Someone
by Lori Gottlieb
Examination of a therapist's own experience being on both the giving and receiving ends of therapy. An exploration of why so many of us believe that feelings are shameful, and why we hide them; how unreliable we all are as narrators of our own experience; how to see yourself more accurately; how to get past the presenting problem, and finding the true root of issues; achieving "emotional sobriety" to regulate your feelings; and the 5 stages of change and how to recognize when you (and people you care about) are actually ready for help/change.

Oct 27th | Nov 3rd | Nov 10th | Nov 17th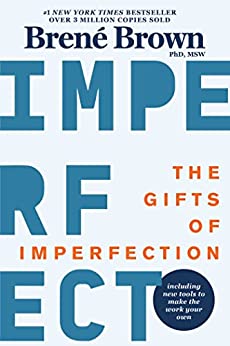 The Gifts of Imperfection
by Brene Brown
Together we will DIG deep (Get Deliberate; Get Inspired; Get Going),and make commitments on how we're going to incorporate what we're learning into your everyday life. Learn how to be wholehearted and explore why we focus so much on what other people think. It's about stepping into the belief of I am imperfect and I am enough-the best gift we could give ourselves during this busy holiday season!

Dec 1st | Dec 8th | Dec 15th | Dec 22nd
Burnout: The Secret to Unlocking the Stress Cycle, by Emily Nagoski
A book written by women for women who feel overwhelmed, and exhausted by everything they have to do, yet still worried they weren't doing enough. The science and stories of how to get through rough times. Wellness is not a state of mind, but a state of action. A closer look at what wellness "should" actually look like and dismantling the myth of "having it all," and how finally achieving lasting peace is how we create space in our lives for that free action through the cycle of being human. What better goal for the new year for yourself…we know it sounds life changing right!

Jan 5th | Jan 12th | Jan 19th | Jan 26th
Want an individual consult?